Soaked! (released June 21, 2005) is the first expansion pack released for RollerCoaster Tycoon 3. It adds new attractions such as pools, water rides, and special path items.
You can also make new roller coasters, new shops, waterfalls, water shows, tunnels, and aquariums.
Unlike the RollerCoaster Tycoon and RollerCoaster Tycoon 2 expansions, Soaked introduced new game-play elements and proper new rides. It also features some Hershey's product placement due to the game's publisher Atari signing a deal with the Hershey's chocolate company.
Scenarios
Attractions
Roller Coasters
Junior Rides
Thrill Rides
Water Rides
Gentle Rides
Transport Rides
Pool Slides and Rides
Other Rides and Attractions
Water rides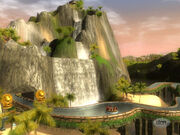 The biggest attraction introduced by the expansion pack is the ability to build swimming pools. Guests can swim in pools, use various pool accessories such as hot tubs and diving boards, and ride water slides. The water slides can only be entered from the pool, and empty into the pool, a first for the RollerCoaster Tycoon series.
Other rides
Other water related rides were also included in the pack, such as the Roller-Soaker. The Hershey Company also played a part in the creation of the expansion pack, and the Hershey's Stormrunner was included in the game plus a 'Hershey's Chocolate Stall'
System requirements
See also
Community content is available under
CC-BY-SA
unless otherwise noted.