This article is under construction.

You can help by editing it! Relevant discussion may be available on this article's comment section below.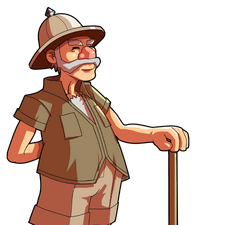 Overview
A poorly run safari park neaby has been shutdown - it will be great publicity if you rehouse the neglected animals and release into the wild when they are healthy. You'll need to turn this established theme park into an animal sanctuary and use all of your animal experience to make it.
Rocky Coasters is the 8th scenario in the Wild! expansion pack for RollerCoaster Tycoon 3.
Pre-Built Attractions
Bumbling Bobs (

Bobsleigh

)

Excitement: 6.27 (High)
Intensity: 6.87 (High)
Nausea: 4.44 (Medium)
Initial Pricing: $4.90
Pre-Built Shops/Stalls
Burgers 1 (

Burgers

)
Drinks 1 (

Drinks

)
Toilets 1 (Toilets)
Objectives
Apprentice
Release animals into the wild: 5 (Hippo)
Park Rating: 500
Minimum excitement: 6.50 - One coaster
Rewards: Park rating boost
Entrepreneur
Release animals into the wild: 8 (Camel)
Park Rating: 700
Viewing galleries: 10
Reward: Decreased interest rates (9.95%)
Tycoon
Release animals into the wild: 11 (Rhino)
Park Rating: 900
Minimum excitement: 6.50 - Two coasters
Reward: Spin Crazy (Spinning Steel)
Scenario Guide
The scenario guide can be viewed here.
Attractions
Roller Coasters
Available
Air Powered Coaster

Bobsleigh

Dingy Slide

Flying Coaster

Heartline Coaster

Junior Coaster

Lay Down Roller Coaster

Multidimension Coaster

Pipeline Coaster

Rafts

Reverser Coaster

Standup Coaster

Standup Twister Coaster

Vertical Drop Coaster

Wooden Coaster

Wooden Wild Mine
Researched
Junior Rides
Available
Researched
Thrill Rides
Available
Launched FreeFall

Loop the Loop

Loop-o-Plane

RotoDrop

Spider Top Spinner

Top Star

Twirler
Researched
Water Rides
Available
Researched
Gentle Rides
Available
Ghost House Ride

House of Fun

Insect House

Laser Battle

Lion Show

Mirror Maze

Planetarium

Reptile & Amphibian House

Space Arcade

Western Wheel

Wild West show

Zero G trampoline
Researched
Transport Rides
Available
Air Boat

Elephant Transport

Mini Railway

Paddle Steamer

Safari Train

Safari Transport

Suspended Monorail Trains
Researched
Pool Slides and Rides
Available
None
Researched
Other Rides and Attractions
Available
Car

Haunted Hotel

Quad Bike

Soap Box Derby Cars

Steeple Chase
Researched
Food Stalls
Available
Bison Burgers

Burgers

Chicken

Cotton Candy

Dino Burger

Donut

Fries

Golden Nugget Candy

Hot Dogs

Ice Cream

Moorish Kebabs

Pizzeria

Pumpkin Pies

Sandwiches

Steakhouse

Toffee Apples

Turkish Delight
Researched
Drink Stalls
Available
Coconut Drinks

Coffee

Croctails Tropical Juices

Drinks

Hot Cocoa

Lemonade

Rocket Boost Cantina

Root Beer

Space Shakes

Spooky Shakes
Researched
Souvenir Stalls
Available
Accessories

Balloons

Beanie Hats

Crocodile Balloons

Custom stall

Castom stall with billboard

Custom stall with billboards

Custom stall with rotating billboard

Cutlasses

Dino Mask

Indian Feather

Novelty T-shirts

Parrot Balloons

Pirate Hats

Raccoon Hats

Safari Hats

Safari toys

Sheriff Balloons

Shield and Spear

Souvenir

Space Hats

Spooky Hats

Spooky Jokes

Stripy T-shirts

UFO Balloons

Western Hats

Witches Hats
Researched
Facilities
Available
A.T.M.

First Aid

Umbrellas
Researched
Available Scenery
Researched Scenery
Other Notes