This article is under construction.

You can help by editing it! Relevant discussion may be available on this article's comment section below.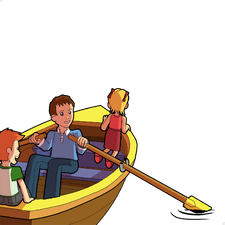 Overview
You've come a long way. Now for your ultimate challenge - improve on paradise itself! A touch of RollerCoaster mania is needed to pack as many guests as possible onto this jewel of a desert island. A tough challenge, to be sure - but beat it, and you will have achieved RollerCoaster Tycoon nirvana.
Paradise Island is the 18th and final scenario in RollerCoaster Tycoon 3.
Pre-built Rides
Paradise Twister (Compact Inverted Coaster)

Excitement Rating: 6.67 (High)
Intensity Rating: 8.24 (Very High)
Nausea Rating: 6.34 (High)
Initial Price: $5.50
Objectives
Apprentice
Park Rating: 600, Sustain for 2 months
Guests in Park: 200
Reward: Small amount of cash ($1,000.00)
Entrepreneur
Guests in Park: 450
Repay Loan
Reward: Research boost
Tycoon
Guests in Park: 700
Minimum excitement: 7.00, Two coasters
VIP (Clint Bushton), Wants MixMaster display
Reward: Clover Leaf (Vertical Drop Coaster)
Scenario Guide
The scenario guide can be viewed here.
Available Rides
Roller Coasters
Junior
Thrill
Water
Gentle
Transport
Pool
None
Other
Available Shops/Stalls
Food Stalls
None
Drink Stalls
None
Souvenir Stalls
None
Facilities
Researched Rides
Available Scenery
Researched Scenery
Other Notes
At the start of the scenario, Paradise Twister shows false test results. After a testing run the numbers should refit. The false test results are the following:
Excitement Rating: 3.50 (Medium)
Intensity Rating: 10.48 (Extreme)
Nausea Rating: 7.69 (Very High)
Community content is available under
CC-BY-SA
unless otherwise noted.