Construction
The tower is a cylindrical steel structure. The observation car is hauled up by cables running to the top of the tower. Categorized as an indoor ride, since guests are covered from rain while aboard the car, from entrance to exit. As such, guests will flock to it when it rains, making this ride a must-have during rainy days.
Vehicles

Hershey's Kissing Tower
(Observation Tower)
Soaked!

Pre-built designs
RollerCoaster Tycoon
Scenarios
RollerCoaster Tycoon 2
Scenarios
RollerCoaster Tycoon 3
Scenarios
Other Information
Observation Towers have lower excitement ratings, unless they are built to very tall heights and have a lot of scenery around them. They make a good alternative to outdoor rides and guests will flock to them in the rain. A good strategy therefore could be to add a few of them, kept closed (or not) until rain starts pouring.
Observation Towers are one of the safest money-makers available. By making the tower as short as possible, the ride duration and –by extension– line queues, will be shorter, with less chances of a break down, while also maximizing profits. It's, therefore, a win-win situation.
Observation Towers with a ride fee adjusted anywhere from $0.90 to $0.20, depending on how popular and old the ride is, will most likely be constantly profitable. It is usually a good idea to delete and replace the ride every couple of years, which will make it brand new, and as such allow the ride fee to go back up. The cost of this operation is well covered by their generated income.
In Real Life
The observations towers in RCT1 and RCT2 are based off Gyro Towers that were built by both Intamin and Von Roll Holding. RCT3's Hershey's Kissing Tower is based off the Intamin Gyro 1200 model at HersheyPark.
Trivia
RCT1's strategy guide lists it debuting in Added Attractions, it actually was present in the main game.
In RCT3, if the ride is started without any ending part (just the station), it will fly off and crash after a while.
Gallery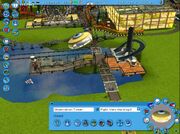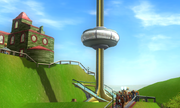 Community content is available under
CC-BY-SA
unless otherwise noted.