This article is under construction.

You can help by editing it! Relevant discussion may be available on this article's comment section below.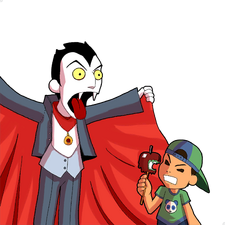 Overview
This old vampire's haunt certainly doesn't lack for atmosphere. Yet for some reason, it seems sort of … drained. Can you put on the bite to work it back up to a nice, healthy glow - or are you going to be just another sucker?
New Blood is the 12th scenario in RollerCoaster Tycoon 3.
Pre-Built Rides
None
Pre-Built Shops/Stalls
None
Objectives
Apprentice
Guests in park: 200
Reward: New park unlock
Entrepreneur
Park rating: 400, sustained for at least 2 months
Repay Loan
Reward: Extra land available for purchase
Tycoon
Scenario Guide
The scenario guide can be viewed here.
Available Rides
Roller Coasters
Junior
None
Thrill
Water
None
Gentle
Transport
Pool
None
Other
Food Stalls
Drink Stalls
Souvenir Stalls
Facilities
Researched Rides
Available Scenery
Researched Scenery
Other Notes
Community content is available under
CC-BY-SA
unless otherwise noted.