Construction
Track has a tubular steel spine, connected to the inside edges of tubular steel running rails. Supports are large tubular steel posts. Trains are held on the track by wheels above, below, and outside the running rails.
Special Track Elements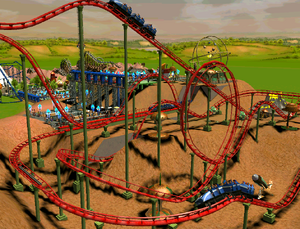 Banked Curves
Vertical Loop
Steep Twist
Banked Helix
On-Ride-Photo
Booster (RCT1 and OpenRCT2 only)
Corkscrew (RCT3 only)
Large Corkscrew (RCT3 only)
Half Loop (RCT3 only)
Quarter Loop (RCT3 only)
Constraints
Banked curves - 50° banking (90° in RCT3)
Maximum track slope - 60° (90° in RCT3)
Lift hill maximum slope - 25° (60° in RCT3)
Maximum height above ground - 150 ft
Vehicles
Operating Modes
Continuous circuit mode
Powered launch
Reversed-Incline launched shuttle mode
Pre-built designs
RollerCoaster Tycoon
Exterminator
Fizzly
Shuttle Loop
Scenarios
RollerCoaster Tycoon 2
Black Panther
Bumblebee
Deep Freeze
Exterminator
Fizzly
Getaway
Glow-Worm
Hedgehog
Jellyfish
Rattlesnake
Shockwave
Stingray
Turbine
Scenarios
Other Information
Gives a very smooth ride, and allows the design of long, fast, and twisted track layouts.
The difference between the Steel Roller Coaster's powered launch and the LIM Launched Roller Coaster's launch is that the train will pass through the station for the Steel Roller Coaster, which is not true of the LIM Launched Coaster's train. Another difference is that Steel Coasters can have a lift hill with chain lift later in the ride while LIM can not have chain lift at all.
This ride is called Steel Roller Coaster in the original RollerCoaster Tycoon.
The first and second games have different roller coaster train designs.
In Real Life
The Looping Coaster closely resembles the coasters designed by Schwarzkopf and Hopkins. This track type is also useful for making shuttle roller coasters like the popular Shuttle Loop model manufactured by Schwarkopf.
Gallery
External Links
Steel Roller Coaster (Wikipedia)
5 useful designs for scenario play (Marcel Vos YouTube video) Update to the previous video
Community content is available under
CC-BY-SA
unless otherwise noted.