This article is under construction.

You can help by editing it! Relevant discussion may be available on this article's comment section below.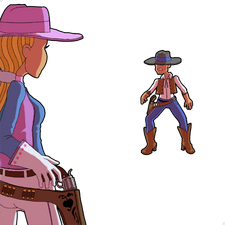 Overview
The Old Frontier beckons you to a western theme park that's about to be put out to pasture. Be quick on the draw to rustle up some improvements and put some Wild back into the West!
Gunslinger is the 9th scenario in RollerCoaster Tycoon 3.
Pre-built Rides
Grande Western Train Line (Mini Railway) (Outside park, not operable)
Runaway Train (Wooden Wild Mine Ride)
Tavern Capers (Wild West Show)
Pre-built Shops/Stalls
Bison Burgers 01 (Bison Burgers)
Golden Nugget Candy 01 (Golden Nugget Candy)
Indian Feather 01 (Indian Feather)
Raccoon Hats 01 (Raccoon Hats)
Root Beer 01 (Root Beer)
Steakhouse 01 (Steakhouse)
Information 01 (Information)
Toilets 01 (Toilets)
Toilets 02 (Toilets)
Objectives
Apprentice
Minimum coaster length: 270.00 m (885.83 ft), 2 coasters
Minimum park value: $25,000.00
Reward: New park unlock
Entrepreneur
Repay Loan
Minimum park value: $50,000.00
Reward: Extra land available for purchase
Tycoon
VIP (Kara Oki) - Wants to visit two coasters: Excitement rating of at least 4.00
Minimum park value: $75,000.00
Reward: The Asp (Inverted Roller Coaster)
Scenario Guide
The scenario guide can be viewed here.
Available Rides
Roller Coasters
Junior
Thrill
Water
None
Gentle
Transport
Other
Researched Rides
Hyper Twister Coaster
Available Scenery
Researched Scenery
Other Notes
Community content is available under
CC-BY-SA
unless otherwise noted.