This article is under construction.

You can help by editing it! Relevant discussion may be available on this article's comment section below.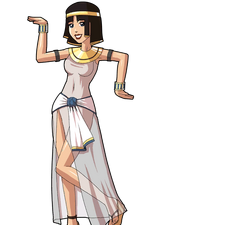 Overview
So you think you know what makes a great wildlife park? Sphinx again! Revive the ancient splendor of the Pyramids and become  a Roller Coaster Pharoah! As always, keep your families happy - especially the Mummies!
Egyptian Sand Dance is the 3rd scenario in the Wild! expansion pack for RollerCoaster Tycoon 3.
Pre-Built Attractions
None
Pre-Built Shops/Stalls
None
Objectives
Apprentice
Guests in park: 400
Animals of species: 8 (Camel)
Minimum Coaster Excitement: 4.00 - One coaster
Rewards: Decreased interest rates (7.45%), New park unlock
Entrepreneur
Guests in park: 500
Animals of species: 12 (Camel)
Repay Loan
Reward: Park rating boost
Tycoon
Guests in park: 600
Animals of species: 16 (Camel)
Minimum Coaster Excitement: 4.00 - Two coasters
Reward: Neon Drop (Towering Coaster)
Scenario Guide
The scenario guide can be viewed here.
Attractions
Roller Coasters
Available
Air Powered Coaster

Dingy Slide

Junior Coaster

Pipeline Coaster

Standup Coaster

Standup Twister Coaster

Wooden Coaster
Researched
White Water Rapids
Heartline Coaster
Glider Coaster
Half-Pipe Coaster
Robotic Coaster
Junior Rides
Available
Researched
Reese's Peanut Butter Cups (Soaked)
Thrill Rides
Available
Loop the Loop

Loop-o-Plane

RotoDrop

Spider Top Spinner

Top Star

Twirler
Researched
Water Rides
Available
Researched
Windsurfer (Soaked)
Mini Sub
Gentle Rides
Available
Ghost House Ride

House of Fun

Lion Show

Mirror Maze

Planetarium

Reptile & Amphibian House

Western Wheel

Wild West show
Researched
Dolphin Show (Soaked)
Space Arcade
Laser Battle
Aquarium (Soaked)
Zero G trampoline
Killer Whale Show (Soaked)
Transport Rides
Available
Researched
Water Based Transport (Soaked)
Pool Slides and Rides
Available
None
Researched
Other Rides and Attractions
Available
Researched
Hershey's Kissing Tower (Soaked)
Quad Bike
Food Stalls
Available
Bison Burgers

Burgers

Chicken

Dino Burger

Donut

Fries

Ice Cream

Pizzeria

Pumpkin Pies

Sandwiches

Steakhouse
Researched
Drink Stalls
Available
Drinks

Hot Cocoa

Lemonade

Spooky Shakes
Researched
Space Shake
Rocket Boost Cantina
Souvenir Stalls
Available
Accessories

Balloons

Beanie Hats

Custom stall

Castom stall with billboard

Custom stall with billboards

Custom stall with rotating billboard

Dino Mask

Indian Feather

Raccoon Hats

Safari Hats

Safari toys

Souvenir

Spooky Hats

Spooky Jokes

Stripy T-shirts

Witches Hats
Researched
Swim Suit Stall (Soaked)
Novelty T-shirts
UFO Balloons
Inflatable Stall (Soaked)
Space Hats
Sun Cream Stall (Soaked)
Sun Glasses Stall (Soaked)
Facilities
Available
A.T.M.

First Aid

Umbrellas
Researched
Available Scenery
Researched Scenery
Other Notes