This article is under construction.

You can help by editing it! Relevant discussion may be available on this article's comment section below.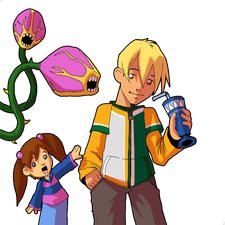 Overview
While the setting here is straight from the pulp Sci-Fi book of yore, your challenge if all too real - to create a park that would make your space heroes proud! With only small patches of land to build on, the seeds for funding your own space race have already been sown..
Cosmic Craggs is the 14th scenario in RollerCoaster Tycoon 3.
Objectives
Apprentice
Park Value: $20,000.00
Total monthly ride income: $100.00
Reward: New park unlock
Entrepreneur
Park Value: $40,000.00
Repay Loan
Reward: New land available for purchase
Tycoon
Park Value: $60,000.00
VIP (Kara Oki) Breakdown Tolerance: Medium
Reward: Buffalo (Wooden Coaster)
Scenario Guide
First thing to do is pause the game. Then sell ALL those weird looking flower things. They are worth about $16,000. Pay off your loan. Set your research to accomadate your needs and just build platform rides down near the entrance. You may need one roller coaster and another tracked ride to beat Tycoon level, but this still isn't that difficult of a scenario.
Available Rides
Roller Coasters
Junior
Thrill
Water
None
Gentle
Transport
Pool
Other
Available Shops & Stalls
Food Stalls
Drink Stalls
Souvenir Stalls
Facilities
Researched Rides
Available Scenery
Researched Scenery
Other Notes
Community content is available under
CC-BY-SA
unless otherwise noted.